COMMUNITY NEWS AND EVENT
E-Waste Collection Day
What's on at Ngā Manu Nature Reserve during the October School Holidays
'Once in a Full Moon' Puppet Show
11.30am, Monday October 10th at Ngā Manu Nature Reserve
Join Anna Bailey from String Bean puppets at Ngā Manu for 'Once in a Full Moon', a story set one evening deep in the New Zealand
bush. A lonely kiwi looks up at the sky and mistakes the full moon for a giant egg. Can kiwis fly? Can moons fall from the sky? Can
wishes come true?
Entry to the puppet show is by KOHA
Standard Admission prices apply for entry to the Reserve. Pack a picnic and enjoy the day!
DAILY ACTIVITES DURING THE SCHOOL HOLIDAYS
Tuna / Eel feeding at 11am and 2pm daily ‐ only $2.50 to feed a Tuna/ Eel
Daily Ranger talks on native birds, reptiles and eels ‐ all free with admission
October School Holiday Scavenger Hunt – go into the draw to win one of four family memberships (two drawn each week).
Ranger Experience – find out what it's like to be a Ranger for the morning, ages 7+ (bookings required)
Native Bird Close Encounter – meet our Kaka, Kakariki, Whio and Kea, ages 7+ (bookings required)
Kiwi Night Encounter ‐ discover the secret lives of kiwi at dusk, ages 7+ (bookings required)
Visit this website for more info and to book in.
Island Bay United Soccer Holiday Programme
Fishing Tournament

We are appealing to the students who enjoy fishing to enter our free tournament that runs from the 1st October through to the 16th 2022. It is open to anyone under 16 throughout all of Aotearoa.
Go to www.tangler.co.nz for more information. 
Wellingtons Harriers Athletics

Wellington Harrier Children's Athletics
Our children's athletics club day starts Saturday 15th October, we meet at Newtown Park at 11.30 am.
Registrations are open, we offer social and competitive memberships.
Please click on this link to register. New members are welcome to come and give it a go.
Bridge Club Lessons
Wellington Sword Club



Bigair Gymnastics 
If your child loves doing cartwheels, handstands, trampolining, flips, dance, or parkour moves, then they will thrive at Bigair Gym!
Bigair Gym classes are excellent for fun, focus and fitness! Children learn new skills and develop personal confidence and self-achievement! Strong focus is given to safety and technique, ranging from fundamentals to advanced skills. The structured classes follow a Bigair Badge Programme, which creates focused learning, and allows children to achieve and feel personal progression!
Bigair classes include GYMNASTICS, TRAMPOLINING, TUMBLING, FREE RUNNING (that's parkour with flips) & CHEERLEADING! Inquire about Bigair BIRTHDAY PARTIES too!
GET IN QUICK FOR TERM 4 GYM CLASSES & BIGAIRS POPULAR HOLIDAY PROGRAMME! Bookings open Mon 19th September. Booking in is easy online at www.bigairgym.co.nz or contact your local Bigair Gym office today.
Kilbirnie Rec Centre Halloween Night

On Friday 28 October, something strange is happening down at the Kilbirnie Recreation Centre! 
Come join us for a night of skating, music, food, prizes, a Fright Zone and something a little bit scary... 👻
Tickets are on sale now from the Kilbirnie Recreation Centre reception - $10 for an individual ticket and $35 for a family pass. Limited skate hires will also be available. This event is open to all ages, so start getting your costumes ready for the whole family!
Spotlight Performing Arts
Writing and Art Workshops 
"Write Like an Author" and "Draw Like an Artist" are school holiday programs for young writers and illustrators.
They will be held during the school holidays, starting on Tuesday, October 11, 2022 and running until Thursday, October 13, 2022 at Scots College. 
There will be a three day camp for children aged 9 to 14 and a one day workshop for children aged 7 to 10.
Young writers will learn:
* How to come up with story ideas
* How to plan and outline a story
* How to come up with interesting, sympathetic characters
* The writing process, how to put it all down on paper
Young artists will learn:
* How to draw a cool character
* Different media and techniques
* How to create storyboards
* How to create a multi layered artwork
Plus they'll make new friends and have heaps of fun!
The location of the camp is:
Scots College
1 Monorgan Road, Strathmore Park, Wellington
Young writers (or their parents) can register through this link.
Young illustrators (or their parents) can registerthrough this link.
Brooklyn Junior Cricket Club
Registrations are now open and will close in early October. Check out their
website!
October Holiday Computer Classes.
Grand Training runs educational and fun computer classes over the holidays Wellington City location on Lambton Quay for ages 5 to 15.
- Roblox
- Minecraft from Introduction to Mods and Servers
- Learn to Code; Scratch, Python or Java.
- Code and Create 3D Games.
- Web Design, HTML and CSS
- Build a PC
- Film and Video Editing
- Discovery Course in Computing - suitable for younger children
For information & bookings 499-2211 or grandtraining.co.nz
Wellington School of Cricket 
Registrations are now open for the October Spring Holiday Programme held at Sky Stadium. For more information visit their website.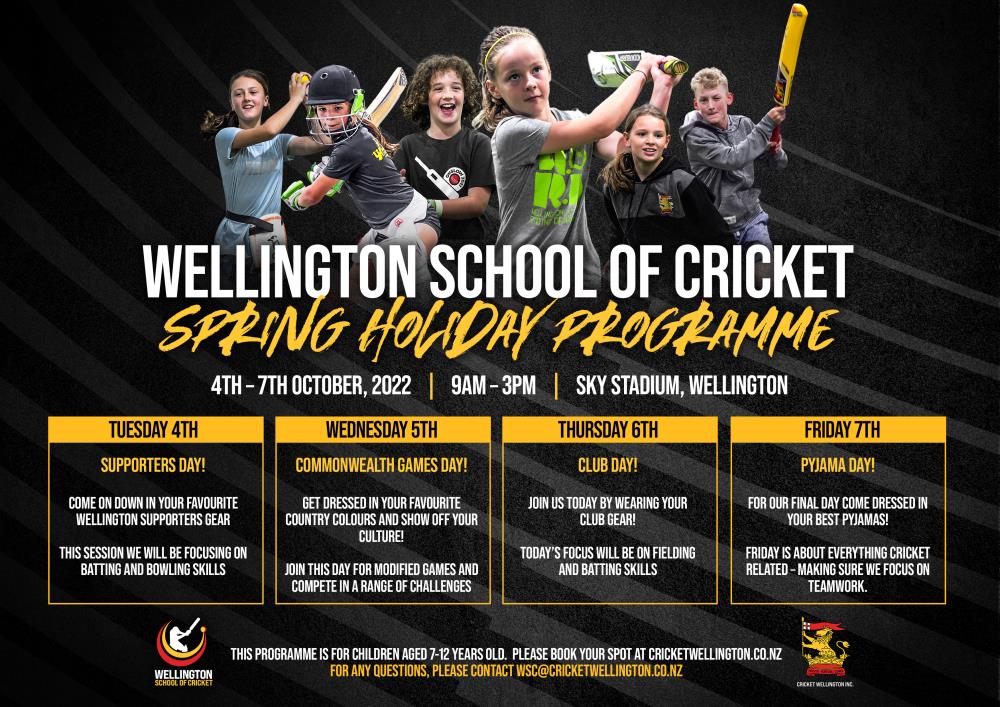 Make A Room| Stem Club
For the last 6 years MakeRoom has delivered its STEM CLUB after school programme from its Home Base in Miramar. Currently we have a roll just under 150 kids across 27 classes per week. As our reputation has grown so has our Waitlist. As a result, from Term 4 we are expanding into other Wellington Communities offering our quality classes in Kelburn, Mt Victoria, Island Bay, Vogelmorn, Karori and Khandallah.
STEM CLUB offers ongoing weekly classes for kids aged 8-13 years, building a wide knowledge and skill base through project based learning. Every term includes take home projects that combine many different disciplines including: Computer Coding, 3D Printing, Laser Cutting, Electronics, CAD, Arduino, Robotics, Sewing, Woodwork, CNC Milling, Raspberry Pi, And More...
For more information, or to sign your child up visit
our website
.
Everyone Out Holiday Programmes
Everyone Out Holiday Programmes offer tamariki the opportunity to play and follow their own interests in an amazing natural environment. Whether they want to build huts in the bush, test out our slackline, learn how to start a campfire or just hang out in the hammock - there is something for everyone.
Book in for the Spring Holidays, 3 - 14 October, at enrolmy from 23 August, or for more information check out our website. 
PNP Mountain Bike Spring Series
Mountain bikers of all ages and levels are welcome to join the PNP Spring Series, for more information visit their website
here
. 
The One Room Fan Museum
A fun Wellington holiday activity is dressing up in Lord of the Rings-inspired costumes and playing with replica props at The One Room Fan Museum. This is a fan's hobby museum in her own home and she just loves to open up for families for koha. The fan museum was recently a popular event at the Featherston Booktown and is open on request during the holidays. Arrange a visit by emailing theoneroomfanmuseum@gmail.com or by text on 012 0720 463. For more info see this 
website
. 
Brooklyn Northern United - First Kicks
Wellington Harriers
Its cross country running season and if your children enjoy running come and give it a go.
We offer club races, interclub competitions and fun, friendly training groups.
Our club days are Saturday afternoons we meet at the Wellington Harrier Clubrooms on Alexandra Road Mount Victoria just before 2 pm. 
We also have midweek training groups.

---
Springboard Diving at Kilbirnie Pool
Wellington Diving Club offer diving lessons for kids aged 6yrs+ to Adult sessions!
Try something new - visit our website and register for a FREE 30min Trial Lesson in the school holidays or during Term.
After-school sessions available on Wed/Thurs and Saturdays - All levels welcome from beginners to competitive.
FREE Community Diving sessions one Sunday per month during Term. T&C's apply.
For more information, please visit our website www.wellingtondiving.org.nz or call/text Barbara on 027 485 8888.
---
---
Music lessons in your home
- One-on-one lessons with an emphasis on fun and playing music the student loves
- I travel to you and can teach guitar, piano, saxophone, bass, ukulele

- Learn performance skills, creativity and songwriting, theory, improv, ear training and musicianship
If you'd like to know more, please contact James:
0274274052
---
---
Guiding is a place where girls can be girls and in a safe and positive environment they can:
Learn new life skills
Build their confidence
Contribute to their communities
Form friendships
And so on
Our non-competitive learning environment is open-minded and values based. It's a supportive place to grow
confident, adventurous girls who are ready to be tomorrow's leaders.
---