This page was updated on 28 4.22
COVID-19 FAQ February 2022
Guidance to schools for COVID response measures is continually changing.  We update our FAQs as we receive new information from the Ministry of Education and the Ministry of Health. 

We are currently operating in Orange of the COVID-19 Protection Framework (CPF).
This information is to support our whānau with Covid-19 queries and provide clarity around what to do if you or your child gets COVID-19.
If you have specific health questions, go to the Unite Against Covid website for more detailed information and links to further support.
If you have questions about how Te Kura O Tawatawa | Ridgway School is responding to the Omicron outbreak in Wellington contact Kathryn (principal@ridgway.school.nz).
We have prepared infographics with key information for parents of children in Years 1-4, ākonga in Years 5-8 and staff.  These are displayed around the school and on our website.
Is it safe to send my child to school?
Attending school is important for children's emotional and social wellbeing as well as for their learning. Our school's health and safety protocols for ORANGE contain a number of protections for our ākonga (learners) and kaimahi (staff).  This includes ventilation of rooms, mask-wearing, and social distancing when this is possible. We believe that Te Kura O Tawatawa | Ridgway School is as safe as it can be and encourage you to keep sending your children to school. 
You may have seen Dr Jin Russell in the media noting research from New South Wales about their recent Omicron outbreak showing that spread within the school setting is very low (less than 4% of cases at school infected someone else when at school). We have seen that in New Zealand too.  This is why the Ministry of Education has directed schools to remain open and consider it safe for children to attend school.
My child tests positive for Covid-19.  Can they come to school?
No.  If your child tests positive for Covid-19 they need to isolate.  This means staying at home for the  isolation period, which is now just 7 days . All family members living in the same household are considered household contacts and will also need to isolate. Household contacts should get a test on Day 3 and Day 7.
The Unite Against Covid website gives clear instructions for isolating.
Who do we advise if my child tests positive for Covid-19?
Let us know that your child has tested positive for COVID when you let us know they will be absent from school.  You can phone the office (049398771) send and email to the office (office@ridgway.school.nz) or use the @school app/portal to report an absence.
We encourage you to use the app as this makes it easier for us to record the absence.  It's important that you let us know why your child is absent from school so that we correctly code our attendance register.  
You should also notify anyone your child had contact with out of school while possibly infectious.
Another household member has tested positive for Covid-19.  Can my child come to school?
No.  Even if your child does not show any symptoms, they cannot come to school until the 7 day isolation period is up.  They can return to school after this as long as they don't have any COVID symptoms.
You should test on Day 3 and Day 7.  If your child tests negative and does not have any symptoms, they can return to school on Day 8.
If your child tests positive for COVID19 they need to isolate for 7 days.  Their isolation period starts on the day they get their positive test or on the day they first displayed symptoms, which ever is first.  
What actions does the school take when there is a positive case at school?
We are no longer required to notify the school community about cases at school or to work out who might be a 'close contact'. however we understand that you will want to receive this information.  If there appears to be an outbreak with transmission occurring between children in a particular class or group, we would inform parents about this via Teacher Messages or School Notices (check the @school app or @school portal to get this information).
If children at school show any of the symptoms of COVID, they will need to go home.  We will phone you and ask that you collect your child immediately.  Children who are unwell wait in the medical room until their parents pick them up.  If you find out that a member of your household has got COVID you will need to collect your child from school as soon as possible.  Phone the office and our staff will collect your child from their class so they are ready to meet you when you get to school.
How will I know if my child is a close contact?
lose contacts do not need to isolate unless they develop symptoms.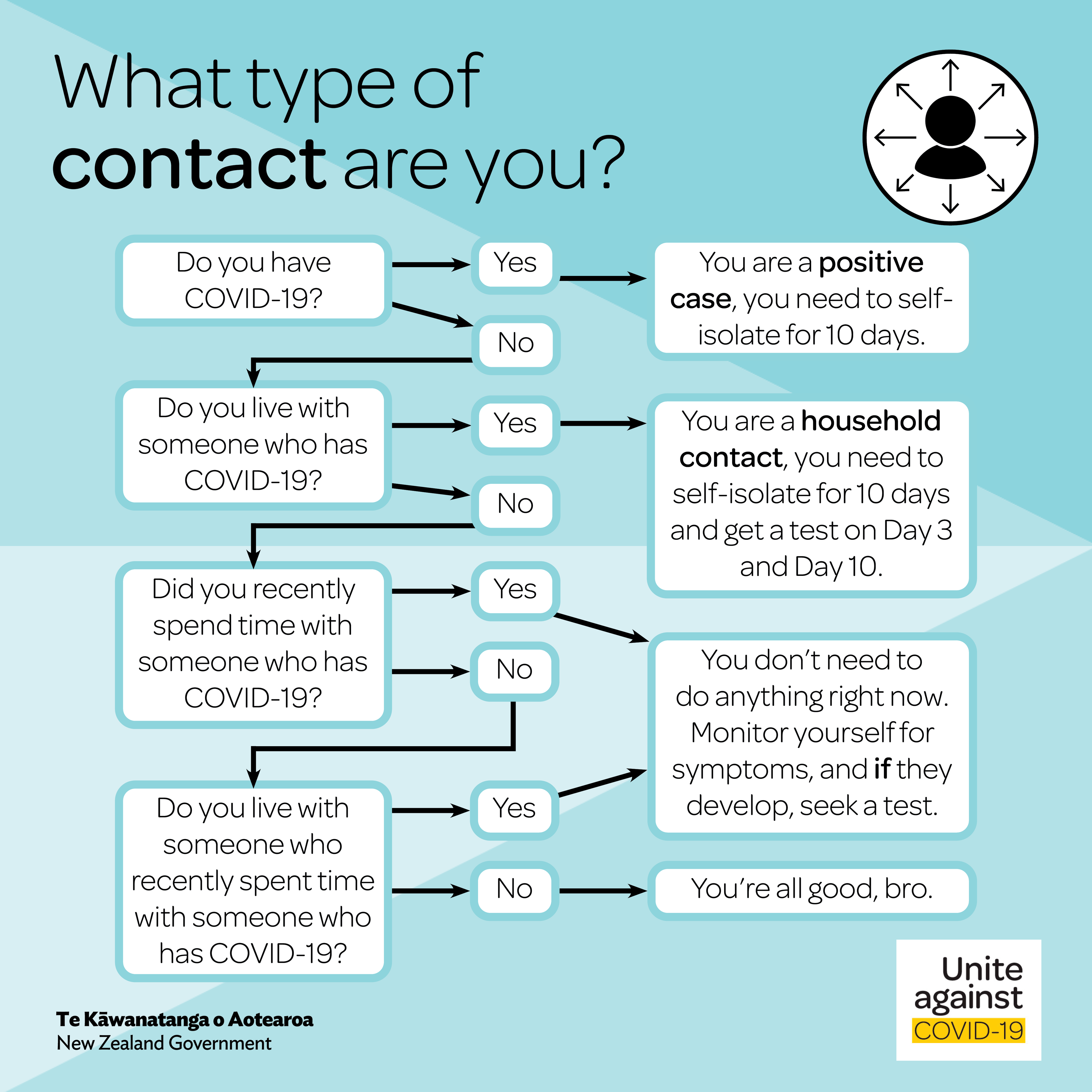 If a child has spent a day or night in a home where there is a shared-care arrangement, and someone in that home was infectious at the time,

 
they are a household contact
.  

If they move to their other home during their required period of self-isolation, they must continue to isolate when in that other home.
Note: Most transmission of COVID happens in people's homes and very few children have been infected while at school.  Most school closures have occurred because of transmission between teachers, not between children.
My child needs to isolate at home. What support will the school provide around teaching and learning?
See the  learning from Home page on our website.   Click on your child's team link to read the information slides. 
If your child is isolating at home but not completing any school work they are considered to be 'absent'.  If they are isolating at home, but continuing to do independent work they are considered to be "learning from home".
Note:  We are no longer offering Google Meets for children at home as we don't have enough staff capacity to manage this.
When can my child return to school if they or someone else in our household gets COVID?
Your child can return to school IF they do not have any COVID symptoms AFTER isolating for 7 days.
If your child still has symptoms after 7 days, they should be tested and stay in isolation until they are symptom free.
Once you have recovered from COVID-19, you will not need to isolate again for 3 months, if someone else in your household tests positive during that time. This is an increase from 1 month.
Do I need to provide anything to the school before my child is able to return?
No, but it would be useful for us to know when you expect them to return to school.  You can send a message to office@ridgway.school.nz and this will be passed on to teachers.
A member of my household (or myself) has recently been in contact with someone who has COVID. Can my child still attend school?
Yes, as long as they do not have any COVID symptoms.  Any one with COVID symptoms should get tested and isolate for 7 days if the test is positive.
If you've had contact with someone who has COVID, you should monitor for symptoms and do a RAT test.  We have a limited number of Rapid Antigen Tests (RATs) that we can provide to our whānau - just ask us.
Use this short questionnaire on the Unite Against COVID-19 website to help you work out what type of contact you are.
My child is feeling unwell, e.g. cough, cold, headache, sore throat.  Can I still send them to school?
No. These are all symptoms of Covid-19 so even if your child only has 1 or 2 of them, please do not send them to school .  While these may be normal bugs and sniffles, we encourage you to seek medical advice and undertake a COVID-19 test.
I've got some symptoms, what should I do?
Get a test.
For the best and most recent health information, contact Healthline:
For general health advice and information call  0800 611 116 anytime

For COVID-19 health advice call 0800 358 5453 anytime

For COVID-19 vaccination advice call 0800 28 29 26 (8am - 8pm 7 days a week)

The Unite Against Covid website has information about everything COVID related.



What is the school doing to keep my child safe?
See our Infographics for Orange.
All staff and tutors are fully vaccinated.

We are cross ventilating in all rooms and are monitoring air quality using CO2 monitors.

All staff and the ākonga Year 4 and over are wearing masks.  Children in Years 1 - 3 are encouraged to wear masks too.

Teachers are encouraged to look for opportunities to do more activities outside and children often have the option to work outside.

Watch the "Why airflow and masks matter" video clip on the Kids Health website.
My child is anxious or scared.  What advice do you have?
The Kidshealth website has this advice:
it is normal for children, teens and adults to have strong feelings, reactions, and changes in behaviour when faced with uncertainty

children learn from their parents' responses, as well as what they see and hear in the media

limit the amount of information that your child has access to while still providing them with accurate information, suitable for their age

allow for family time and try to keep as many routines in place as possible, to provide a sense of safety and security. (Taken from: Kids Health NZ)



Where can I go to get help?  I know someone else that needs help, what can I do?
Some of our families have offered to help others that live nearby with small things like dropping off groceries or doing small errands.  If you want to help others in our community please contact our office and leave your name and contact details.  If you need help, reach out to us and we'll find someone who can lend you a hand.
The impacts on COVID-19 have been extreme for many families in New Zealand. If you know of a family in our community who is struggling, please encourage them to reach out for support for example to access food, medicine, or access financial support
:
Help is available
–
C
OVID
-19 Health Hub