News & Events
Term 1, Week 5, 2018

Kia ora...
...talofa, ni hao, mālō e lelei, hallo, hola, chomreabsuor, sabaidi, bonjour, namaste, kumaste, kia orana, yassas, as-salam 'alaykum, cześċ, Kon'nichiwa, and hello to all of our families.


Charter Update
The board invite community members to comment on our updated charter goals which are outlined in this 1 page document. Comments should be sent to the board via ridgwaybot@gmail.com.
Buildings
Over the Christmas holidays the staff toilets and the medical room were upgraded, bringing more than a few smiles to staff faces! This work is just the start though. Recently we've been told by Ministry of Education officials that Ridgway School is a top priority for refurbishment and building work and we expect to see more progress on plans soon. This is good news!
Financial contributions
You will have recently received an invoice for activities that your child will be involved in during the year as well as a request for a voluntary school donation. If you have any questions or would like to discuss payment options, please contact Raelene Sloper in our office.
The board wish to recognise the financial contribution that our families make towards their children's education and express their thanks for your commitment to your child's learning. As a state school we cannot enforce payments for any compulsory curriculum activity or resources that your children may need, however it would not be possible to provide the broad and rich learning opportunities offered at Ridgway School without the ongoing financial support of our families. There are of course a small number of children whose families are not able to make all of the voluntary donations that we request, the board understands this and is committed to ensuring that no child ever misses out on any opportunity due to financial hardship.
Fundraising
I would like to express our thanks to Sarah Gray, Anna Hoffman and Bex Lintott for the fundraising work they did during 2017. This fundraising group ran (among other things) our successful Move-a-thon.
This year Becks Johnson, Nicole Kauffman and Beth Wyatt have stepped up to take on fundraising for Ridgway School. I'm sure we'll hear more from them soon.
Whānau Hui Group
The whānau hui group meet once a term and invite all members of our school community to join them. The group are active in practical ways, supporting us to strengthen knowledge of tikanga and te reo Māori across the school. Each year the Whānau Hui Group host a Matariki celebration event, but also do considerable work behind the scenes to support the school. Read more about their kaupapa and aspirations on our Whānau page.
Education Outside the Classroom (EOTC)
This week our Year 5s and Year 6s are on camp at Forest Lakes while our Year 7&8s and Year 4s have 2 day trips each. It may look a bit quiet around the school!
Vogelmorn Cycle Track
Rapid Earthworks are underway with the track installation and appreciate the community watching from a distance (and staying off the field) while they work.
Once the track is completed we'll need to turn our attention to landscaping around it. Jason Eady would love to hear from anyone who is knowledgeable about plants and landscaping who could assist with the landscape design. Contact him directly via mobile 0210656372 or email, jasoneady@hotmail.com. A call for help with the labour will come later.
The track fundraising group have set up a Give-a-little page to raise money for the next stages of the track development - a skills track and a pump track. Please promote this to your contacts in the wider Wellington community so that this wonderful community facility can be completed.
A great looking bike (similar, but bigger than the one pictured) worth $400 was donated to be raffled. Money raised from this raffle will help with the purchase of bike maintenance items. Purchase a ticket for just $2 either before or after school this week.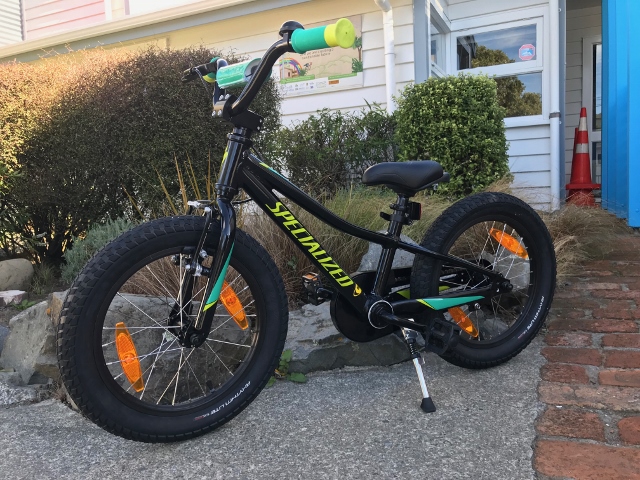 Cans and freezer food
Josh Brown is one of our teacher aides and works in a number of roles around the school. He will also be known to many families through his work at Enjoy Childcare.

Recently his nieces and nephews moved in to live with him permanently. Tragically his 11 year old niece suddenly passed away at the beginning of February.

Those of you who know JB may want to help him and his whānau through this very difficult time by contributing cans or freezer food. Our office staff will receive any food items on Josh's behalf.



Term 1 ends....
For those of you planning ahead for the school holidays, the last day of term is Friday 13 April. Easter falls during the term this year with Easter holidays on Friday 30 March, Monday 2nd April and Tuesday 3rd April.
Hei konā mai
Kathryn Smith
Principal