News & Events
Term 2, Week 7, 2017
Kia ora...
...talofa, ni hao, mālō e lelei, hallo, hola, chomreabsuor, sabaidi, bonjour, namaste, kumaste, kia orana, yassas, as-salam 'alaykum, cześċ, Kon'nichiwa, and hello to all of our families.
New Teachers
We are very pleased to be able to announce to our community that we have secured 2 wonderful teachers to join our staff at the start of Term 3. Furthermore we are thrilled with the considerable experience and expertise that they will bring to our Ridgway teaching staff.
Pam Clark will be joining Whānau Kākā and will take over the organisation of sport and PE across the school. Pam is currently a senior teacher at Tawa Intermediate School.
Libby Hainsworth will be stepping in to Whānau Tūi. Libby is currently principal at St Brendan's School in Upper Hutt but is seeking a return to the classroom to allow her more time with her family.
It is timely to acknowledge the ongoing excellent work of Ken O'Sullivan, Peggy Bruce and Gretel Standage who took on teaching roles during Term 2 and ensured that our students were able to continue their learning. These teachers have all made a major contribution to our school, and have been far more than mere 'relievers'.
Matariki Celebration
Our Matariki Celebration is getting closer and will be held on Thursday 6 July from 5.30pm - 7.30pm. We hope that this event will be well supported by our community as our kapa haka students are working hard to prepare for it.
Our kapa haka group will perform first, followed by a light finger food supper (bring a plate of kai if you are coming), then there will be a range of activities for children and parents to have a go at.
Learning Conferences
Remember to book your learning conference time for the week starting 26 June. If you can't get a time that suits you, please arrange an alternative time with your child's homegroup teacher.
Students in Y1-3 who attended a conference in Term 1 are not due for a conference this term, but will be invited to attend next term.
This term I have also opened up a number of conference times, and you may like to book a time to see me before or after you see your child's homegroup teacher.
If you are unable to book online, please contact our office staff, Raelene and Anneleah, and they will make the booking for you.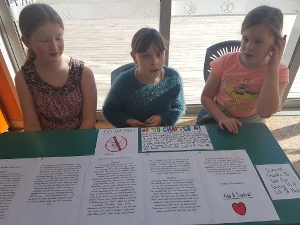 Kākā students presented their Genius Hour work to each other last week.
Fundraising
At the start of the year many families purchased stationery from Office Max. You may be interested to know that we received $671.82 from Officemax MySchool Rewards as a result of your purchases. We'll be using this money to buy sports equipment and stationery supplies.
We also receive a rebate from Warehouse Stationery once a year based on how much you have spent. Any time you are shopping at any Warehouse Stationery outlet, remember to ask for the school points, before you pay, and your purchase will count towards how much we get. Every little bit counts!
Speaking of fundraising - you will have heard already that our Move-a-thon raised $11,296 to be put towards our shade development. The board have a sub-committee actively pursuing the sandpit and shade upgrades.
Please continue to support the businesses that support us, and if you have the opportunity, let them know that you are a Ridgway School parent. Our Move-a-thon was a succes thanks to: The Penthouse Cinema, The Brooklyn Bar and Bistro, New World Newtown, Kilbirnie Sports, and Wellington Firebirds.
ICT User Agreements
Teachers will be following up this week on a handful of students who have not yet returned their ICT User Agreements. Without these, students are not allowed to use any digital devices at school, which could severely hinder their learning.
Every year we answer a number of questions about the ICT User Agreement so I have added a
FAQ page
to our website, and have also reposted (with some revisions) a
blog post from 2015
with further comment on this.
Two things we all love
Teachers love seeing our ex-students being successful and this week Ridgway Staff congratulate Nadya Macey and Zoe Crane for their part in winning the Roxy5 Short Film Competition in May.
We also love our community and are very thankful for the parents who have stepped up to take on a road patrol or library duty. This makes a big difference to teachers who are now able to be present in class at the start and end of most days.
Thank you whānau for supporting your school.
Ngā mihi
Kathryn Smith