News & Events
Term 2, Week 4, 2017
Kia ora...
...talofa, ni hao, mālō e lelei, hallo, hola, chomreabsuor, sabaidi, bonjour, namaste, kumaste, kia orana, yassas, as-salam 'alaykum, cześċ, Kon'nichiwa, and hello to all of our families.
Cross Country
We were so pleased to be able to run our cross country event last week in that brief window when it stopped raining. I was so proud of the way our students cheered each other on and supported others to do their best. It really did highlight to me what a wonderful group of students we have. Thank you to those parents who helped out in some way.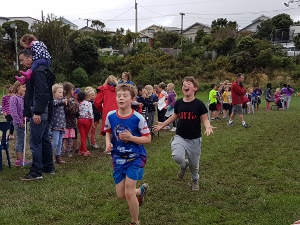 Children who enjoy running may be interested in the Kids Cross Country Series
The Brendan Foot Supersite Kids Cross Country Series is back this winter. Each event has 500+ kids, aged 3 to 13. There are five events through the Wellington region from May to August with the first one in Upper Hutt on Sunday 14 May, and the second in Karori on Sunday 28 May.Your choice if do you one, two, or all five events. Come along, join the fun. Complete them all and receive a commemorative medal and drink bottle. Only $8 to enter. For more info or to enter go to athleticshub.co.nz or contact jo@athleticswellington.org.nz
Road Patrol and Crossing Supervision
This term we have made changes to the duty roster to enable Whānau Tūi & Whānau Kotare teachers to be in their classes before and after school. We've done this in response to parents telling us that they value being able to have a quick chat with teachers before school starts or at the end of the day. We've been able to do this because we now have 7 parents committed to a regular crossing supervision slot.
With two pedestrian crossings and our playground layout, there are 65 duty slots when teachers could be rostered on to supervise children, if both the field and library are open at every break. Teachers could potentially be on duty 6 times per week. This does not include the time that teachers spend in their own lunch breaks supervising children eating, the time that junior teachers spend in their own morning tea breaks supervising children selecting and eating their morning tea, neither does it include the extra duties that teachers must perform either regularly or on occasions to support children with particular needs. In short…. Ridgway teachers have a heavy burden of supervision of children that is well above that of the majority of other schools. This could potentially place our teachers under undue stress which of course would affect their performance in the classroom. We have no choice but to keep the library and field closed during some break times this term to alleviate teacher workloads by reducing the amount of playground supervision they must perform.
In the past parents have helped with supervision in the library at lunch and morning tea times. If parents or caregivers volunteered to supervise children in the library, we'd be able to keep it open for longer each day, which would be great for our students now that winter weather is upon us. Please get in touch if you'd like to help out in the library.
We have sought parent help with crossing supervision and are grateful to Elaine, Vickie, Emma, Alan, Darren, Leigh and Helen who continue to supervise road patrol once a week in term two. There remain 6 slots which I would like to see filled by parents on a regular basis. Please let us know if you are available.
Mon, Tues, Wed, mornings (8.30am - 8.50am)
Tues, Fri, afternoons (3pm - 3.10pm)
PALs Programme
PALs or Physical Activity Leaders Programme is now running 3 lunchtimes every week (Monday, Tuesday and Wednesday). Year 6 students with the help of Teacher Aide Josh Brown, plan and run a variety of physical activities for Years 0-5 students in to participate in. The PALs programme runs wet or fine, and the leaders go to Rooms 1, 5, 9, & 10 at the start of lunch time to let the younger students know what activities will be offered and where they will be held.
There are 5 PALs leader groups, which means that the older students are able to build their leadership skills by being involved but only need to be rostered on every second week.
It's completely optional for the younger students to participate, but is an excellent idea for any child who finds lunchtimes long or boring.
Matariki Celebration
Our Whānau Hui group are planning an exciting range of activities for our Matariki Celebrationto be held on Thursday 6 July from 5.30pm - 7.30pm. Everyone is invited to watch our kapa haka group perform, and then enjoy kai (bring a plate to share) before trying your hand at weaving or finding a Matariki star in the dark or one of the other activities on offer.
Nga mihi
Kathryn Smith